Predictive ROI
Account Supervisor
Our client, Predictive ROI, a remote digital marketing agency, seeks an Account Supervisor to join their team. PROI was born and raised 100 percent virtual, this isn't a fad for them or a new transition. This is who they are and who they will always be.
At Predictive ROI, they love problems, and they need someone who feels the same way. Business is fraught with challenges and obstacles both personally and professionally, but PROI clients are looking to overcome, they just need the right help. Their clients want someone to see them, hear them, and whose enthusiasm to solve the problem is intoxicating. PROI clients respect and enjoy working alongside someone who is inherently curious and enthusiastically asks questions to help uncover and solve deep business issues. They need someone who is collaborative, excited about the problem, and can get the team excited about the solution.
As Account Supervisor you will:
Be a true advocate for the client inside the agency.
Be the client's first call with both compliments and complaints.
Immerse yourself in client industries and their business activities.
Measure success with metrics and ROI.
Develop ideas and marketing strategies that will move the needle for clients.
Reimagine and move the account services team to the next level.
Set SMART goals for the account service team and evaluate performance.
Develop and present strategies to grow AGI with existing clients by 10 percent per year.
Recommend enhancements to account service processes.
Qualifications required:
5 to 7 years of account services experience inside an agency with a proven track record of results in a fast-paced, teamwork-focused environment
Exceptional written and verbal communication skills
Ability to think proactively and bring new strategies and tactics to the table
Ability to work well remotely, independently, and under pressure
Ability to multitask and set appropriate priorities between client responsibilities, management responsibilities, and agency responsibilities
High level of responsiveness to clients
Desire to be a supportive teammate who enjoys sharing wins and finding solutions
If you're interested, please submit a cover letter and résumé.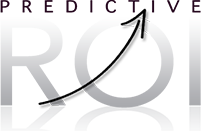 Predictive ROI is at the forefront of a new age of marketing, which is the age of authority and thought leadership. PROI focuses on using unique content, strategy, and thought leadership to cultivate the relationships that grow their client's business. They believe the normal system of sales is broken, and that there is a better method that companies can apply to grow business without all of the stress that comes along with it. This is why they help agencies, coaches, and consultants build their thought leadership and then monetize it. Knowing the needs of their clients and planning strategies is only a small part of what they do. Their team is dedicated to giving clients great results with turn-key lead gen and content marketing strategies that can predict their financial ROI in a complex digital world.